Amateur sailor Sarah Young killed during Clipper Round the World Yacht Race
Tag :
Amateur sailor,Yacht Race
A 40-year old amateur British sailor has died after being swept overboard by a wave in the Pacific Ocean while taking part in the Clipper Round the World Yacht Race on Friday (April 1).
Sarah Young, from London, was tidying the cockpit on IchorCoal after reefing the mainsail when she fell backwards towards the guard wire and was swept under by a wave. It has been reported that she was not tethered to the yacht when the incident happened on the 21 metre yacht, which was racing from Qingdao, in China, to Seattle, in the US.
Crew members managed to recover Miss Young's body using her personal AIS tracking signal but attempts to resuscitate her failed.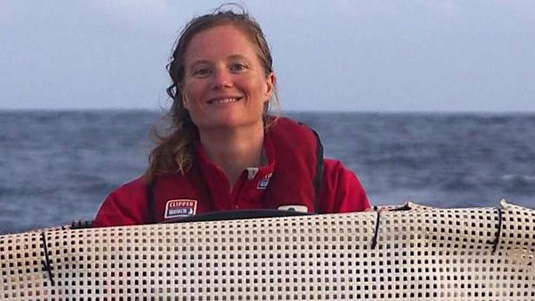 After consultation with Miss Young's partner, family and friends, she was buried at sea in a ceremony yesterday (April 3). Sailors on the 11 other yachts taking part in the race gathered on their own vessels for a minute's silence in memory of Miss Young.
IchorCoal's skipper Darren Ladd led the tributes to Miss Young describing her an "enthusiastic and accomplished sailor".
"Sarah was a valued crew member and amazing victualler," he added. "On deck she was fearless and could often be found at the bow wrestling with headsails, or up the mast wrestling wrapped spinnakers, even below decks wrestling crew to protect the biscuit ration.
"Sarah was an adventurer and lived life to the full. She died an adventurer's death battling the elements circumnavigating the globe."
This is the second fatality in the race in the past six months as fellow British sailor Andrew Ashman died after being knocked unconscious on IchorCoallast September.
Founder Sir Robin Knox-Johnston has defended the race's safety record and has promised a full investigation into her death. It is thought that the investigation will focus on why Miss Knox was not tethered to the yacht.
Sir Knox-Johnston said in a statement: "On behalf of everyone at Clipper Ventures, I am deeply saddened by the loss of Sarah. She was a very popular and integral member of the Clipper Race family and knew our boats well, having sailed with us since London last summer.
"The safety of our crew has always been and continues to be our main priority and we shall investigate the incident immediately in full cooperation with the authorities."