New conversions and Auto Camper on VW to come
Tag :
New conversions, Auto Camper ,VW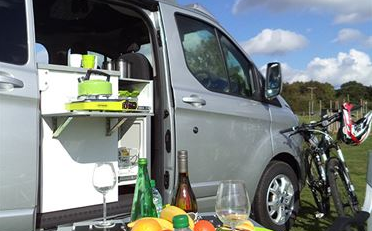 There's a new camper conversion available from Ford campervan specialist, Roy Wood Transits. In partnership with Firth Campers, the Classic is designed primarily for those that don't have the budget for a new campervan and will be predominantly be offered as a complete conversion on used Fords and VWs.
  Carl Firth, of Firth Campers, previously designed and built an innovative gas-free camper on the VW T5 Transporter base, utilising the Wallas diesel hob and heater. The conversion is your traditional layout with furniture on the right, a single left hand door and a rock 'n' roll bed. This quality conversion will become the new Auto Camper model. You can buy the T5 Classic, on a second hand T5, for £27,000 from Firth Campers.
  Roy Wood will also be offering a new, day van option as a conversion. With pricing for all vehicles and components increasing thanks to the currency drop, the company wanted to find an alternative option that kept costs down. So, the existing Day van will still be offered as a premium luxury passenger vehicle that doubles up as a camper and all the other permutations but there will be a new, more affordable version. The new version will be called the Day Van Tourneo where the base will be converted on a van with an optional six rail bonded floor system sharing the same modular furniture as is used in the standard Tourneo. The benefit, is the lower starting price and spec.
  Ford has finally launched an automatic Transit for the UK and Roy Wood has had its order for them accepted. As soon as the company receives a van base – expected mid January – it will be producing a conversion for sale. But it's not just Ford's from Roy Wood though, as Managing Director Steve Wood revealed, "We carried out a soft VW launch at the October NEC to test the water and appetite for a VW Auto Camper MRV and leisure van by way of stickers on our vans and brochures. These were received positively so we currently have a twin door VW T5 in Sheffield for conversion to a pop top MRV and also have a new T6 on order which we will officially launch at the Feb show."
  Other news includes a new high pressure laminate furniture finish option called Driftwood and Slate and that conversion partners Firth, now has a Ford Euro VI MRV demonstrator that can be viewed, by appointment, at the showroom in Sheffield.
  Thanks to the ever-increasing sales for the Auto Camper brand, Roy Wood Transits has been trying to relocate to somewhere bigger for the last 15 years. The high price of land in the south had scuppered those plans but now the company has found a new site, just a mile from its current location, and will be submitting a planning application for a new showroom and workshop facilities to support the ever-increasing camper element of the business in the new year.
  Steve Wood, Managing Director, commented, "The last years have been tough with loads of research and development and a significant investment to get Auto Campers on the map. Finally its rewarding for us to have customers recognise that our 'Intelligent Versatility' strap line is what Auto Campers is all about. Customers are amazed when we start the conversation with, 'What do you want?' because we can easily configure our campers to their needs and lifestyle!"