Take your charter appeal to the next level with Lynx Yachts' YXT range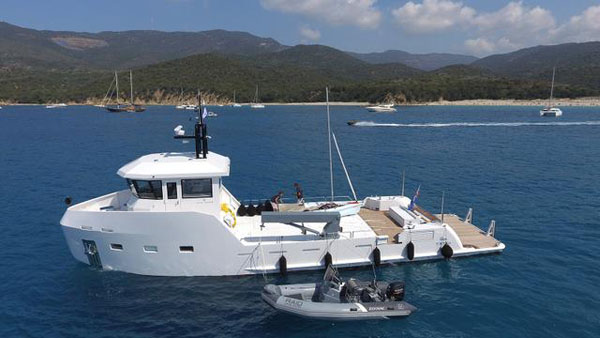 In a crowded charter market, it can be hard to make sure your beloved yacht stands out from the competition, but offering a superyacht support vessel is a sure-fire way to do so.

  Charter clients are always keen to try out the latest superyacht water toys on their luxury vacation, but with tender garage space often at a premium, it can be hard to carry everything on your yacht.

  A superyacht support vessel provides the perfect alternative, with the extensive open deck of the YXT 24 able to hold two tenders, two Jet Skis and a myriad of inflatables and diving gear, while the covered hangar allows you to store a luxury car or a motorcycle below decks.

  After a day spent enjoying an idyllic anchorage, the mother ship can motor off into the sunset with the guests on board, while the crew stay behind on the support vessel to take care of safely reloading the water toys via the YXT 24's powerful crane, which can lift up to 3.6 tonnes.

  What's more, with a top speed of 16 knots, the YXT 24 is more than capable of catching up with the rest of the party or even cruising ahead to scout out the next remote spot to drop anchor and relax.

  the-lynx-yachts-yxt-20-at-sunset

  Lynx Yachts can attest to how useful the YXT range is, as yard founder Slim Bouricha regularly used a YXT20 while cruising on his 33.5 metre Heliad II, which was recently sold and renamed Robbie Bobby.

  "The best way to improve and develop a project in the right way is to test it personally," adds sales and marketing director Filippo Rossi.

  Each YXT is built in Nijkerk to exacting standards, so you can be sure that your support vessel will live up to the high expectations of a superyacht charter experience.