55m Damen yacht support vessel New Frontiers sold
  The 55.3 metre yacht support vessel New Frontiers has been sold with Fort Lauderdale brokers Yachts.In introducing the buyer.

  Built on speculation and launched as recently as July 2017, New Frontiers was built by Dutch yard Damen as the 11th hull in the Sea Axe range. Damen plans to build another 55 metre yacht support vessel in 2018, further cementing its place as the industry leader in this growing market niche.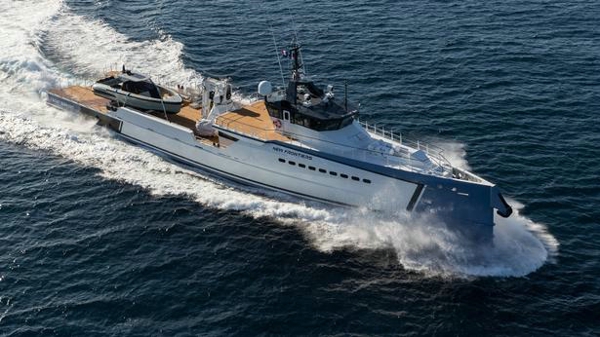 New Frontiers has a maximum cruising range of 5,000 nautical miles and a top speed of 20 knots. Key features include a 190 square metre aft deck helipad, which can support a maximum take-off weight of 3,700kg. Superyacht water toy storage is another one of her strong suits, as the deck crane can lift up to 12 tonnes — enough to launch a personal submarine.

  New Frontiers' interior has been fitted out to a high standard, with room for up to six guests in three cabins — a first for the Damen Yacht Support range. Her 496GT interior includes a main-deck master suite and a 50 square metre sundeck, situated just aft of the raised wheelhouse.

  Commercial Director Rose Damen comments: "Whether you prefer a mesmerising weekend dive adventure to Truk Lagoon or Cocos Island, or want to enjoy two locations at once linked by helicopter, or all the benefits of a lots of large tenders, toys, submersibles and storage, our Yacht Support range is all about unforgettable experiences and freedom."

  New Frontiers was asking €15,000,000.